November 1st, 2008 by katie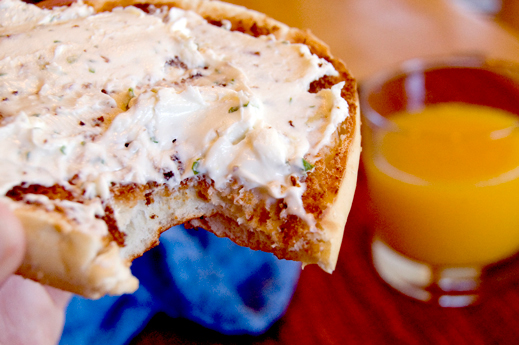 Not being a native Texan, I will never understand why bagels are so hard to come by down here. It's not just that there are few bagel shops but even the grocery stores don't carry much of a selection. It is almost impossible to get savory bagels off the shelf, they are all cinnamon and sugar, blueberry, or plain. No garlic, no onion, no asiago cheese, and only if I am really lucky-and moon aligns just right with the planet-can I find a few pitiful everything bagels in the bakery. To compensate I make this flavor-packed spread to use instead. It only takes a minute and at least if I do find myself saddled with a plain bagel I know I can at least have a delicious schmear.
Herb Garlic Cream Cheese Spread
makes 4 oz, prep 5 min
1 small clove garlic, minced then turned into paste
1 tsp fresh herbs
pinch lemon zest
4 oz cream cheese, room temp (makes it easier to combine)
Mince garlic finely then rub it against the cutting board with the flat side of your knife until it turns to a paste. A sprinkle of kosher salt with help this along.
Finely mince some fresh herbs: chives, cilantro, basil, parsley, whatever you have on hand.
Combine all ingredients in a lidded container and mix until uniformly combined. Store in the fridge.

Posted in Breakfast, Budget, Condiments, Easy, Fast