October 14th, 2008 by katie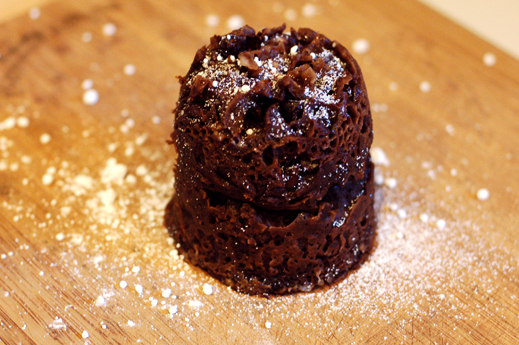 So not too long ago, I received an email-you know the type-declaring this the most dangerous cake recipe in the world because now anyone can have chocolate cake any time in just five minutes! I don't think I would choose this recipe to satisfy a chocolate cake craving, but it did look like a great recipe for kids to make. The cake batter is mixed in a microwaveable mug and then "baked" for 3 minutes in the microwave. To demonstrate this: my three year old volunteered to make the cake completely on her own.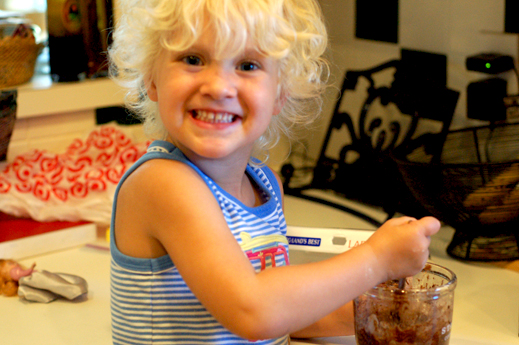 Chocolate Mug Cake
serves 2, prep 5 min (for a 3 year old), cook 2-3 min
4 tbsp flour
4 tbsp sugar
2 tbsp cocoa powder
1 egg
3 tbsp milk
3 tbsp oil
3 tbsp chocolate chips
dash of vanilla
Combine the dry ingredients in a medium to large microwaveable mug.
Add the egg and mix well.
Add the milk and oil, mix well.
Stir in the chocolate chips and vanilla.
The recipe says for a 1,000 Watt microwave it needs to cook on high for 3 min. Our cake was a bit over done at 2 min 30 seconds so I might even take it out at 2 min.
I used a very large mug so mine didn't rise over the rim, but the recipe says not to be alarmed if your cake rises above your mug.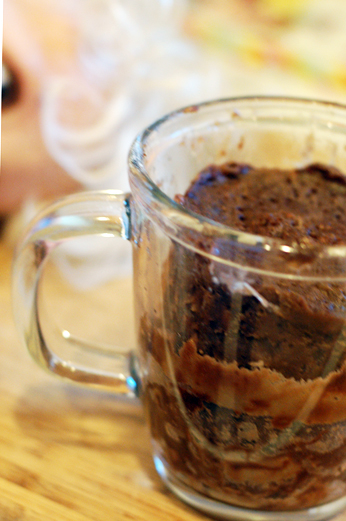 Ok, so everyone is wondering what it tastes like. Well, it's definitely better than anything that ever came out of our Easy Bake Oven. As I said before, it seemed a little over done. It was moist and kind of spongy. It lacked much of a cake-like texture but it was very chocolately. The three year old ate several handfuls of chocolate chips and declared she wanted popcorn instead so maybe it was too sweet? Despite it's flaws it is a fun, easy, edible recipe for little kids who might want some freedom in the kitchen. Thanks to almost frugal food for reminding me to check my inbox for this one!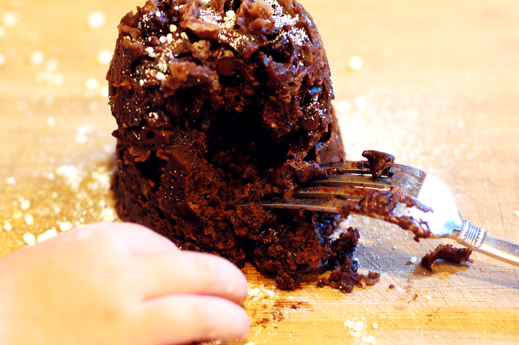 Posted in Cooking with Kids, Desserts