September 18th, 2008 by katie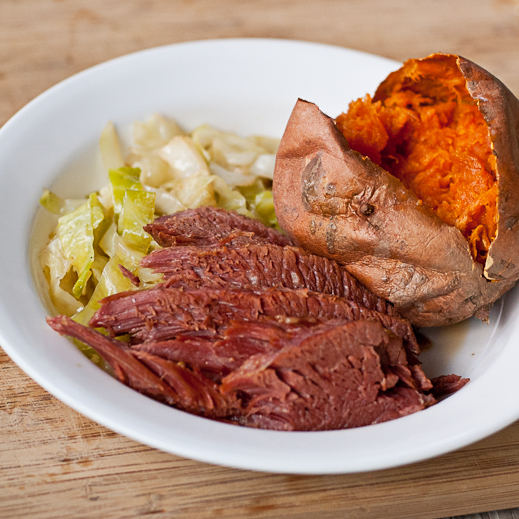 There are very few dishes as easy as preparing a corned beef. You can simmer it in a pot on the stove top or you can cook it in a slow cooker while you are out. I generally make mine on the stove top because I can't seem to get the slow cooker started early enough. Corned beef is great fall comfort food for me; the perfect meal for those chilly, busy fall days. My mother simply puts the brisket with the seasonings from the package in her Crockpot and fills it with water to cover before going to work-it's that easy. I make mine with a few extra ingredients because I like the depth of flavor. 
Corned Beef
serves 6, prep 10 min, cook time: 3 hours
12oz beer
32 oz. beef stock, to cover
1 corned beef brisket
2 tbsp sugar
10 peppercorns, slightly crushed
3 cloves
1 onion, quartered
2 tbsp vinegar, I haven't found it to matter what kind
2 tbsp ketchup
2-3 bay leaves
Remove the brisket from its packaging and rinse, place in a pot and cover with the remaining ingredients.
Bring to a boil then cover and turn heat down to a simmer.
Simmer 3 hours.
Slice, shred, or chop your meat depending on how you want to serve it.
If you want to add cabbage, carrots, potatoes etc, you can add them for the last 45 minutes or so. I don't do this because we don't care for boiled vegetables. I prefer my usual steamed vegetables and maybe some mashed potatoes or home fries. Sometimes I make a mustard sauce for this, but I am the only one who eats it, so I also serve with the yellow squeeze bottle alongside.
Leftovers make great sandwiches or corned beef hash.