September 22nd, 2008 by katie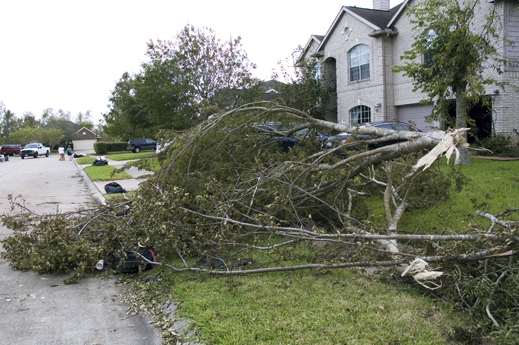 So power, water, internet and phones have all been mostly restored at our house. Which is wonderful and amazing considering that right now 50% of Centerpoint's 2.3 million customers still have no electricity. Luckily we have had some wonderful fall weather so people aren't dying from lack of A/C.
We really lucked out at our house. Many of our neighbors are replacing their roofs, siding, and windows and are still without power. Our roof did really well, only losing a few shingles, and our windows and siding held up. Our fence went down, but really it would have been a surprise if it hadn't. Our neighbor's tree fell in our yard and took out our water line which was really the worst damage we had.
Four days without power meant I had to throw away everything in the fridge and both of our freezers. Luckily I had spent the week prior trying to cook a lot of it. Although it was really painful to see all that expensive meat go in the trash. On the other hand, the stink of food rotting in an enclosed space helped speed up that process.  I would be lying if I told you it was all bad. My personality type actually kind of relishes the opportunity to completely empty both fridge and freezers, wipe them out, and start over fresh. Our groceries are starting to open back up and I've already been to the store three times for what ever fresh foods I can find. It will be a long time before I willingly eat a granola bar.
Thanks for all of the good wishes! I am happy to report life is slowly returning to normal, at least at our house.  Many of our neighbors only houses away are still without power.  Our businesses are closed and the traffic signals are out.  We great our co-workers and friends with hugs and questions: "How is your house? Do you have power?"  The schools have been closed for a "to be determined" amount of time for clean-up and power restoration.  Things are getting better, our trash actually got picked up and some of the traffic signals are back on.  A few restaurants are open.  Gas is becoming easier to find and with shorter lines.  One of our local grocers is now fully stocked.  We have a lot to be thankful for.
Thank you again for all your good wishes.
What's for Dinner after a hurricane?

Posted in Me