July 18th, 2008 by katie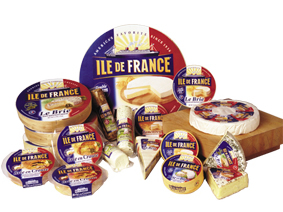 A few weeks ago the folks at Ile De France contacted me to see if I'd like to taste and review some of their cheese. Because I'll take free food any way I can get it, I said of course I would like to taste your free cheese. I picked the Camembert because I wasn't familiar with it and thought I could broaden my cheese horizons. Their website recommended pairing it with a Louis Jadot Beaujolais Villages ($11), which they described as "powerful, yet fruity," which by the way is exactly how I like my men. Perfect, I was already looking forward to it.
Before I get into my opinion of their Camembert, I first want to mention a few things about their website. My first stop on the site was the pairings section, because my favorite way to experience new cheeses is balanced with the perfect wine. The Chaos household tends towards hard, aged cheeses so I have found the pairings information extremely helpful considering I don't have a clue as to what to pair with soft, rich, creamy cheeses like the ones Ile de France specializes in.
Next stop, Recipes. I love browsing new recipes and learning about creative ways to use ingredients I am unfamiliar with, like soft cheese. I thought the video recipes were interesting, since watching someone make a recipe goes along way towards boosting my confidence in trying out a new recipe myself. My final stop on the Ile de France website tour: their Wellness page. I learned that soft cheese while seemingly richer and therefore fattier than hard cheese actually has fewer calories and fat per ounce due to the higher moisture content. Of course, I like cave-aged hard cheeses that are so dry they've built up lactic acid crystals and are probably 1,000 calories of pure fat per ounce. So rest assured, I'll be switching over to triple-cream brie, you know, for health reasons. But seriously, the trick to cheese consumption is to find powerful, flavorful cheeses that satisfy you after a single ounce.
Which bring us to the question: how does Ile de France's Camembert satisfy?
In the interest of fair play I asked the wine guy to suggest an alternate pairing and also picked up an alternate brand of cheese from the deli. The second wine pairing was a Rutz Cellars Russian River Valley Cuvee Chardonnay ($14) and our other camembert was by Delice de France
. Thusly, we embarked on our own mini wine and cheese tasting.
The wines: The Beaujolais was a good wine choice to compliment the creamy cheese. It is somewhat dry but fruity and is quite crisp tasting for a red wine. I definitely tastes best chilled. The rich creaminess of the Camembert requires a wine with some acid which both the Beaujolais and chardonnay had. The chardonnay was our favorite for the night. It was rich (and dare I say buttery? Not really sure I know what I am talking about…) with only slight acid and went wonderfully with the tang from the cheese.
The cheeses: The Delice de France cheese was texturally quite different from the Ile de France cheese. It was creamier with less structure and the flavor was quite a bit more intense from the offset. The Ile de France cheese was milder, with a stronger finish. Both cheeses, although creamy and rich, had a lighter-yet tangier and nuttier-flavor than Brie. The Delice de France was our favorite for flavor and texture. We were easily satiated by the one ounce mark. Unfortunately, the cost-at over a $1 per ounce-would make it difficult to enjoy this cheese very often. The Ile de France was the better budget choice at about 75¢ per ounce. It is also more widely available: I was able to locate it at all 4 of the major grocery stores in our area. One advantage the Ile de France cheese had over the Delice de France cheese: it's firmer structure made removing the rind much easier. I know, I know-real connoisseurs eat the rind. Well, the dog then is quite the cheese connoisseur because he gets all the rinds at my house. Sorry, I just can't stand the texture or taste; I like my creamy cheeses creamy.
The verdict: Ile de France's Camembert cheese is the winner in convenience, price, and availability. The flavor is less intense-which means I could easily put away several ounces, ack!-than the more expensive brand which I would occasionally splurge on instead. Both wines went very well with both cheeses, the chardonnay being our favorite. This was a really fun experiment and I encourage anyone who is interested to try it yourselves and let me know what you think!
This is not a paid advertisement. In fact, I spent $32 on wine and cheese that I will happily accept reimbursement for. Anyone? Anyone? If I do any more cheese reviews I might have to ask someone to buy me one of these
in exchange. I have been familiar with the Ile de France brand for some time because the grocery stores in my area carry it in their deli section. If you aren't able to find it in your area they are available online
as well, and it comes in a cute package.