July 14th, 2008 by katie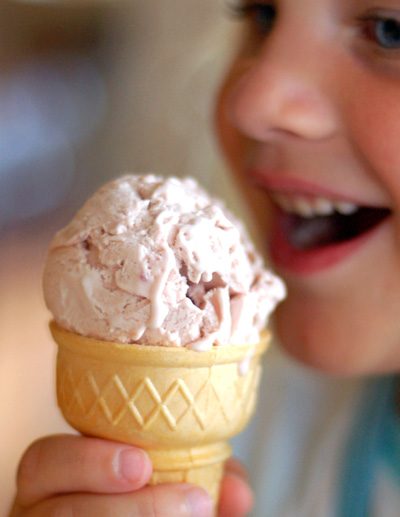 Ok folks, this recipe is not categorized as easy or fast. It requires equipment you may or may not have and trying some new techniques you may or may not have been exposed to. But if you are feeling brave this recipe IS WORTH IT. Also, it makes enough and is so sinfully rich that I usually only make it once a summer. This was the first recipe I tried when I got my ice cream maker and it was the first time I had tried many of these techniques as well. The result was impressive, delicious ice cream that really wasn't as hard as I thought. So who's ready to make some ice cream? Come on, let's get fat together…
Strawberry Cheesecake Ice Cream
makes about 2 quarts of ice cream, prep time: 10 min, cook time: about 20 min plus chilling time and however long your ice cream maker needs
2 cups heavy cream
4 oz. cream cheese
3 egg yolks
2/3 cup sugar
1 1/2 tsp pure vanilla extract
1 10 oz. container frozen sliced strawberries in syrup, thawed
Puree strawberries in syrup, if you like bits of strawberry in your ice cream reserve a few and give them a rough chop.
Heat the cream in a sauce pan just until it starts to bubble, without boiling. FYI, this is called scalding the cream for future reference.
In a stainless steel bowl beat cream cheese, egg yolks, and sugar until light and fluffy, about 2 minutes.
Slowly pour the heated cream into the egg mixture while whisking constantly so the eggs do not curdle. Slowly = barely a dribble, stirring constantly, until you've gotten about half of it in, then you can actually pour. If you dump the hot cream into your creamed egg yolk mixture you'll get scrambled eggs. If you do get any lumps, strain them out before moving on to the next step.
Place the bowl over a sauce pan of water and heat the water. Stirring constantly, cook until the custard thickens enough to coat the back of a spoon. Seriously, dip a spoon in the custard and pull it back out, then draw a line on the back of the spoon with your finger. If the line stays in place, you're good. Be sure to lick your finger, but don't let anybody see. They'll want to lick too.
Immediately remove the custard from the heat and stir to cool so it doesn't over cook.
Stir in the vanilla and 1/2-1 cup of strawberry puree (don't be afraid to taste test until you get it the way you like it). This should give you about 4 cups of ice cream "batter."
Cover with plastic wrap by placing it against the surface of the custard (this prevents a skin from forming) and allow to cool to room temperature. Then refrigerate several hours until cold.
Process the cold custard in your ice cream maker according to the directions. If desired, stir in some of the chopped strawberries from step 1. Personally, I don't like too many hunks of frozen strawberry in my ice cream, it distracts from the velvety texture of this stuff.
Store in the freezer in an airtight container.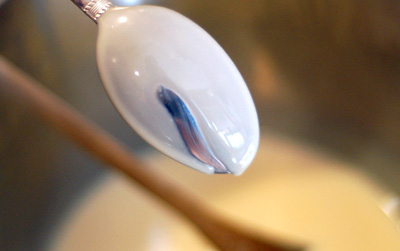 TIP: Leave out the strawberry syrup and you'll get fabulously rich plain cheesecake ice cream. You can even add little bits of graham cracker crust during the processing stage. Purchase a ready made graham cracker crust and break it into small chunks. Add the crust pieces during the stir-in stage of your ice cream processing.

Posted in Desserts