October 7th, 2009 by katie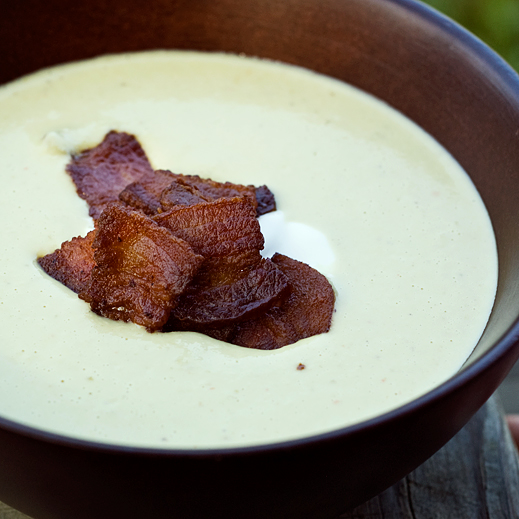 I love the flavor of jalapenos when they are properly de-seeded.  A couple of seeds in there and they are too hot for me but the flesh itself lends a fresh flavor to dishes with just a hint of heat.  We often make jalapeno poppers by stuffing jalapeno halves with cream cheese, wrapping them in bacon and grilling them.  I love to dip mine in ranch dip and I wanted to re-create that combination in a soup.
I really liked how this soup turned out.  Fresh, tingly heat from the jalapenos meets smooth, tangy cream and salty bites of bacon-Mmmmmm.  This soup is actually very good hot or cold, so if you are straddling the divide between summer heat and a frosty fall try some of this for dinner or lunch.  If you don't want the soup too spicy be sure to get most of the seeds out of your jalapenos.  The cream and cheese tempers the heat quite a bit so don't be too afraid-and if by chance you do get it too hot just add more cream or cheese until it calms down.
Jalapeno Popper Soup
makes 5 cups, prep 10 minutes, cook time 40 minutes
12 jalapenos, mostly de-seeded
1 red onion
4 cloves garlic
2 cups heavy cream
2 tbsp butter
2 tbsp flour
4 cups chicken stock
4 oz cream cheese, cubed
1 lime, juice
salt and pepper
bacon, cooked and crumbled for garnish
sour cream for garnish
In a blender, add roughly chopped jalapenos, onion, and garlic.  Add cream.
Puree mixture until smooth.
In a stock pot, melt butter.
Sprinkle with flour and cook, stirring frequently, until golden.
Add jalapeno mixture, stirring frequently.
Add chicken stock and cream cheese and bring to a simmer.
Simmer soup, stirring occasionally, until soup is thick and slightly reduced about 30 minutes.
Add lime juice then salt and pepper to taste.
Run soup through the blender one more time if texture is not smooth.
Serve hot with bacon and sour cream.
Don't forget to tell me your favorite fall foods!
Posted in Easy, Main Dish, Snacks/Appetizers having 6 comments »