August 10th, 2014 by katie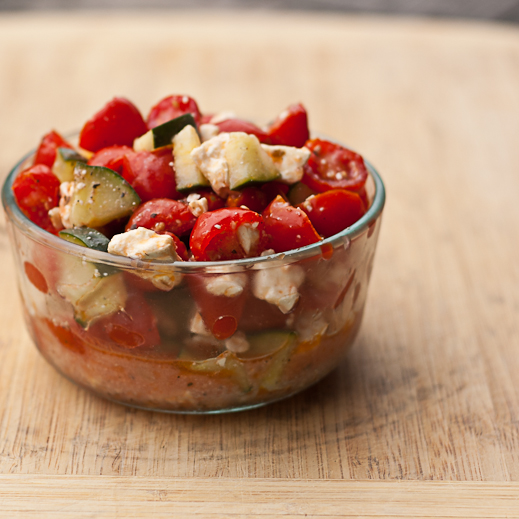 This is my perfect summer food.  You will see variations of this salad everywhere during the summer because it is truly best with the most amazing of garden or farmer's market tomatoes.  My mom makes it with mozzarella pearls and adds diced avocado.  We also add chiffonaded basil when the garden is full of it or a bit of diced, sweet red onion.  I love it with roughly chopped garden tomatoes, like brandy wines.  Actually, I love it any way you make it but it's especially delicious with an excellent creamy, aged feta.  You can use any flavorful Italian or Greek vinaigrette here because you don't need much dressing when you have amazing tomatoes and cheese.  This salad lasts wonderfully in the fridge if you don't finish it all in one setting!
Tomato Cucumber Summer Salad
serves 4, prep 15 min
1 medium cucumber, quartered lengthwise and sliced
1 1/2 cups cherry or plum tomatoes, halved or quartered (about 1 pint)
1/2 cup feta cheese, crumbled
2 tbsp red wine vinegar
6 tbsp olive oil
1 tsp dried oregano
salt and cracked black pepper
Combine cucumber, tomatoes, and feta in a large bowl.  Add any additional ingredients you like.
Combine vinegar, oil, oregano, salt and pepper and pour over salad.
Toss salad and serve immediately or allow it to marinate for up to one day.

Posted in Easy, Fast, Salads, Sides, Things I Love