January 11th, 2013 by katie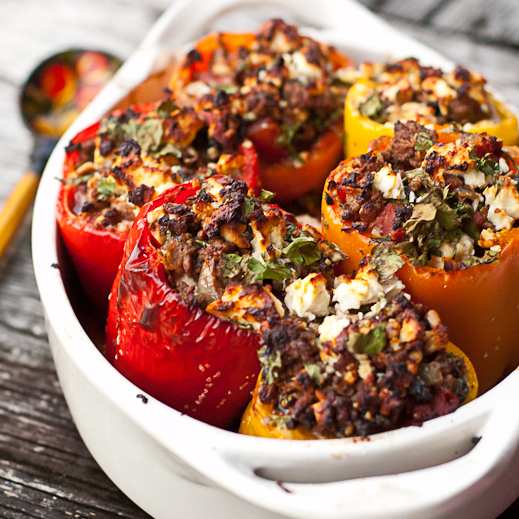 I love this combination of lamb, spices, toasted pinenuts and feta.  I could eat it in any form.  Today, it's in stuffed pepper form with some extra herbs and veggies for good measure.  This is not a super quick weeknight meal but it is definately a pleasant Sunday in the kitchen make and eat all week kind of meal. 
Greek Stuffed Peppers
serves 6, prep 30 min, cook 40 minutes
1/4 cup pine nuts
1 tsp butter
1 lb ground lamb
1 onion, minced
2 cloves garlic, minced
2 tsp oregano
2 tsp onion powder
2 cups fresh spinach, roughly chopped
1 (14.5 oz) can diced tomatoes, drained
1 bunch flat leaf parsley, minced
4 oz feta cheese, divided
6 sweet bell peppers, tops and seeds removed
olive oil
salt and pepper
Heat oven to 400F.  In a large skillet, melt butter over medium heat and toast pine nuts until golden.  They burn easily so keep a close eye.  Add pine nuts to a medium bowl.
Add lamb to the skillet and break up with a spoon.  Add onions and garlic and cook until the lamb is well-browned. 
Sprinkle lamb mixture with oregano, onion powder, salt and pepper.
Add spinach and mix to wilt.  Once spinach is wilted, add skillet mixture to the bowl with the pine nuts. 
Add diced tomatoes, parsley, and half of the feta.  Stir to combine and check for seasoning. 
Rub peppers all over with oil and sprinkle with salt and pepper.  Place upright in a casserole dish and fill with meat mixture.  Add any left-over meat to the casserole dish.  Sprinkle the top with the remaining feta.
Bake the peppers approximately 40 minutes or until peppers are soft and cheese is browned. 
You could also add some cooked orzo or rice to this mixture if you want more filling.  We chose to serve a cheesy orzo on the side so the kids would have several options to not eat.  These amounts make enough filling for 6 peppers with a small amount of filling in the dish.  If you do add rice or orzo be sure to plan to have extra peppers to stuff.   Also, feel free to add a little chopped mint or basil or a dash of cinnamon to the meat mixture.