November 13th, 2012 by katie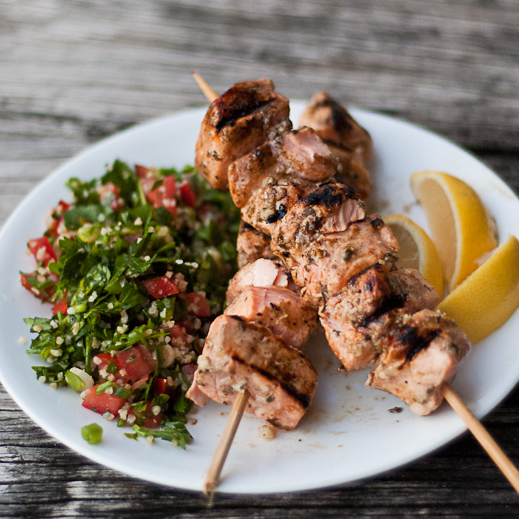 Salmon is one of our favorite weeknight meals.  In addition, to being good for us, it cooks in a snap.  These kebabs are a fun way to serve it and, with a grill pan, are great year-round.  I forgot to add the tzatziki before I took this picture but it is an essential part of the dish and I urge you to make it while the salmon marinates.  You can serve these gyro style with warm flat breads or with a rice pilaf.
I love this tabbouleh salad.  It has the perfect balance of bulgur, tartness, and fresh herbs.  It is a great winter salad and the hearty parsley will hold up in the fridge for several days.  I am so happy to finally have a recipe in my repertoire.  Enjoy! 
Grilled Mediterranean Salmon Kebabs
serves 4-6, prep 5 min, cook 10 min, marinate 30 minutes
5 cloves garlic, minced or grated
1/4 cup olive oil
juice of 1 lemon
1 tsp dried oregano
1 tsp salt
cracked black pepper
6 thick salmon fillets, cubed
In a large bowl or zip-top plastic bag, combine garlic, oil, lemon juice, oregano, salt and pepper.
Add salmon cubes and toss to coat.  Refrigerate at least 30 minutes while you make the salad and tzatziki.
Heat a grill or grill pan to medium-high heat.  Skewer the salmon cubes loosely and grill for about 2 minutes per side.
Check salmon for doneness and continue cooking as needed, 4 minutes is about right for medium rare.
Serve with salad and tzatziki, and fresh warm pita if desired.
Lebanese Tabbouleh
serves 6-8, prep 15 min, adapted from
Modern Flavors of Arabia
1/2 cup fine bulgur
6 firm tomatoes, such as Roma, finely diced
4 bunches parsley, flat or curly, finely chopped
4 green onions, whites only, thinly sliced
1 small bunch mint leaves, minced
2 lemons, juiced
1/2 olive oil
salt and pepper
In a fine strainer, rinse bulgur in cold water. Squeeze out excess moisture and place in the bottom of a large bowl.
Add the diced tomatoes on top of the bulgur. Top with the parsley, scallions, and mint.
Add lemon juice and olive oil, toss mixture to combine thoroughly.  Salt and pepper to taste.
We have been experimenting with different types of wild-caught and farmed salmon from all over the world.  While Monterey Bay Seafood Watch reccommends only wild or US farmed salmon, Chris Kimball prefers farmed salmon for the Northern Icelandic countries.