March 28th, 2010 by katie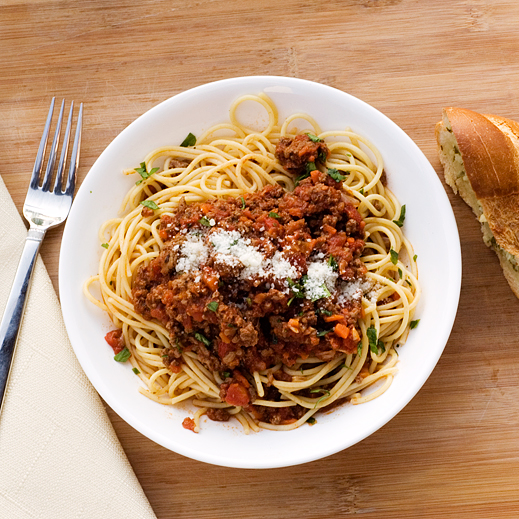 What is about spaghetti?  It is such a simple idea, yet such a crowd pleaser.  Seriously, if you don't love spaghetti, if it isn't a total comfort food for you, leave me a comment and let me know because I just don't believe you exist. 
I love meaty Bolognese-style spaghetti sauces.  I say "Bolognese-style" because I am sure there are rules about what is Bolognese and what is not and I wouldn't know the first thing about it.  This meat sauce has a wonderful, clean flavor without overly complicated ingredients.  You can certainly doctor it up by adding ground veal or Italiansausage, mushrooms, peppers, cheese, chicken stock or any number of things people add to their spaghetti sauces but then it would be a different recipe and not this simply Bolognese-style one. 
This makes a modest amount of spaghetti sauce, you can double the recipe to make more.  I minced carrots for this recipe because I was out of carrot puree but normally I prefer Gerber brand. *wink* 
Spaghetti with Meat Sauce
serves 6-8, prep 15 minutes, cook 1+ hours
2 tbsp butter
1 cup carrots, minced, about 4 medium (or puree)
1 medium onion, diced
2 tbsp  tomato paste
1 lb ground beef
3 cloves garlic, minced
1 cup red wine
1 tbsp dried oregano
1 tbsp dried basil
1 (28 oz) can tomatoes
1/2 cup milk or cream
salt and pepper to taste
Heat a large pot or dutch oven over medium high heat.
Melt butter and add carrots and onion before the butter browns.
Cook carrots and onion until soft, stirring often.  If using carrot puree, add it after the onions have softened.
Stir in tomato paste and cook about a minute.
Add ground beef to the pot and break it up as it browns, stirring occasionally. Add garlic.
Add red wine and bring to a boil, scraping up the bottom.
Add spices, tomato, and milk.  Bring to a boil, cover, and turn heat down to maintain a simmer.
Simmer sauce at least 30 minutes or as long as you like.  I like to simmer at least an hour or longer if possible.
By the way, five out of five sauce-averse children approve of this recipe.  Serve with garlic bread and a salad.