September 30th, 2009 by katie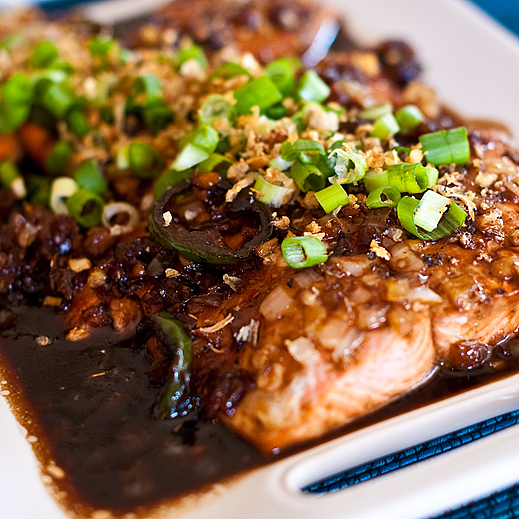 This is a great, fast recipe a friend gave me.  It makes a pretty impressive dish served over rice with fresh steamed veggies.  The black sauce should be available in the ethnic or Asian food aisle at the grocery store (I found it at Kroger for $3.39), or you can buy it online.  It is called kecap manis sedang, pronounced "ketchup," and has a yellow label.  It is a delicious sweet, thick soy sauce and if you like Asian flavors it is definitely something to look for.   The red label is much sweeter and syrupy so try to find the yellow label.  This recipe is a simple family dish and can be made with fish, chicken, or beef.  My friend recommends adding potatoes and carrots if you make if with beef, and if you have kids who don't like the soy sauce flavor she suggest adding 2 tablespoon of tomato ketchup to the sauce.
Salmon with Black Sauce
serves 6, prep 10 min, cook 15min
2 tbsp oil
1/2 onion, diced
2 cloves garlic, minced
2 inch fresh ginger, minced
1 jalapeno, sliced, de-seeded as desired (optional)
1 1/2 lb salmon, cut into fillets
1/4 cup low sodium soy sauce
1/4 cup kecap manis sedang, medium sweet soy sauce, or "black sauce"
2 green onions, diced
2 tsp fried onions or fried garlic for garnish
Heat oil over medium heat.  Add onion, garlic, ginger and jalapeno.  Saute until soft.
Add salmon fillets, cover and turn heat to low.
Cook a few minutes, then flip each salmon fillet over and cover again.
Check salmon and when almost done add soy sauce and black sauce.
Remove cooked salmon to a platter or plate and boil sauce a few minutes or until thickened.
Pour sauce over salmon.  Garnish with green onion and fried onions or garlic.
Salmon is not my favorite fish, it is a little too fishy for me, but I would eat pretty much anything served this way. So if you want to eat more salmon but don't care for it all that much, try it this way.  Or just use chicken, should be equally delicious!  Here is a fantastic steak dish I made also.