June 10th, 2009 by katie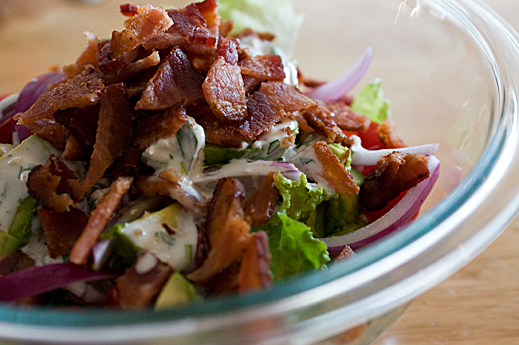 So I heard recently that people are actually tired of bacon.  Could it possibly be true?  That we exhausted ourselves in the excess that is this?  I think that-like with all things-bacon in moderation is absolutely delicious.  I like BLT sandwiches fully loaded with onions, pickles, spices, cheese, avocado and anything else I can fit between two slices of bread.  I thought I could carry that over into a BLT salad with some Blue Cheese Ranch dressing and let me tell you how delicious it was.  mrChaos, who generally tolerates salads for dinner, went out of his way to tell me how good this was.
I updated my blue cheese ranch dip by subbing  buttermilk for the sour cream to make it a little thinner.  You could add as much or as little blue cheese as you like depending on whether you lean towards the blue cheese side or the ranch side.
BLT Salad with Avocado and Blue Cheese Dressing
serves 4, prep 10-15min
1/4-1/2 pound thick sliced bacon, cooked
1 cup cherry or grape tomatoes, sliced in half
1/4 red onion, sliced
1 large avocado, peeled and diced
2 small heads green leaf lettuce, washed and chopped
Combine salad ingredients, serve.
Drizzle with dressing.
Fantastic served alongside steaks.  Salad dressing is one of those things you really shouldn't bother buying at the store.  Make your own a few times and you will see what I mean.  The flavor of homemade salad dressing is so bright and fresh compared to the bottled stuff, they are hardly comparable.  I have never been a fan of the thick, globby bottled blue cheese dressings, but this dressing tastes both light and creamy with the flavors of herbs and spices rounded out with whiff of blue cheese.  It really makes this salad that much more delicious.  Do you make your own salad dressing?  Or is there a bottled dressing you can't live without?