January 2nd, 2009 by katie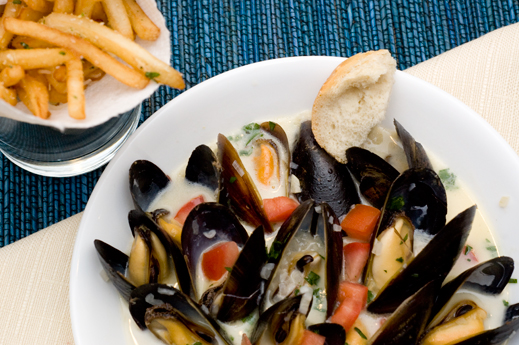 To start the new year I though I would try something new. I had never eaten mussels and certainly never attempted to cook mussels-perfect choice, then. Turns out the most difficult part of this recipe is cleaning the mussels. It took Kelly and I about 15 min to clean all 3 lbs. To clean mussels, scrub shells clean with a brush and "de-beard" by pulling any hairs from along the opening. Mussels should be tightly closed before cooking-discard any open ones that do not close to your touch. Once cooked, discard any mussels that do not open.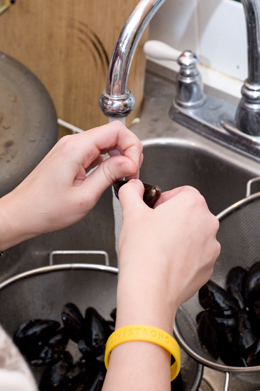 Now of course this dish does not fulfill any of my New Year's Resolutions, namely to eat lower calorie meals and/or stick to a grocery budget. But, what the hell, we'll start that tomorrow right?
Mussels in Wine and Cream Sauce
serves 3-4, prep 15 min, cook time 20 min
¼ cup butter
2 shallots, finely diced
4 garlic cloves, minced
1½ cup white wine
½ cup cream
3 lb fresh black mussels, cleaned
fresh parsley, for garnish
fresh tomato, diced, for garnish (optional)
Melt butter over medium in a large sauce pan with a lid.
Saute shallots and garlic in butter for about 3 minutes or until soft.
Add wine and cream and bring to a boil.
Boil to reduce liquid until thick, approximately 10 min.
Taste sauce and season with salt and pepper as needed.
With sauce boiling add mussels, cover and cook 5 additional minutes.
Once mussels are fully cooked and open divide among bowls and ladle cream sauce over.
Sprinkle with parsley and diced tomatoes if desired.
Serve with pasta or crusty bread or garlic Parmesan fries.
This makes a lot of delicious sauce so next time I probably would make some pasta to accompany it. The garlic parmesan fries were stolen from Reyrena, although I deep fried mine cause I am crazy like that.