January 16th, 2009 by katie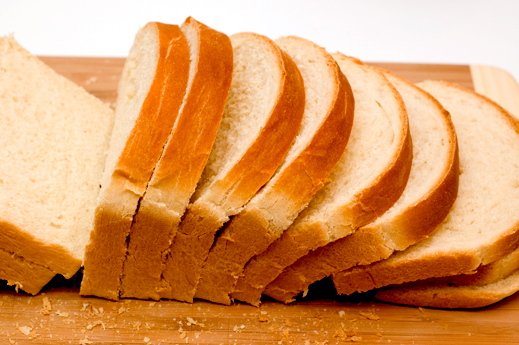 Considering I have been known to make my own mayonnaise-or at least attempt to make it-it should be no surprise to you then that I hate grocery store bread. It is such a staple of our diets and yet it is probably one of the most overly processed foods we can buy. Typical supermarket sandwich bread is like a blank slate on which to construct your sandwich: boring, tasteless, structurally sound deli meat showcase. Unfortunately, it is difficult to turn off the part of your brain that demands this type of bread even when you know a fresh baguette or ciabatta roll makes an equally delicious sandwich base. After being raised on the familiar texture and shape of sandwich bread I knew that if I was going to convince my family, and myself, that fresh, homemade bread was worth the effort, it would need to be familiar and comfortable.
So far it is working. We ate the entire white loaf within 48 hours and the kids loved it. The oldest actually ate her crust first, declaring that it tasted like dough (whatever that means, it is good enough for me). I just finished putting the wheat loaf in the freezer for the rest of the week, but so far I think it is a success. The biggest problem I am having is that the grocery store bread comes in the convenient loaf shaped bag but homemade bread defies all of my current storage solutions. Those of you who bake, how do you store your bread? I want to retain freshness as long as possible but I don't know how to make it convenient to grab a few slices and make sandwiches for the day.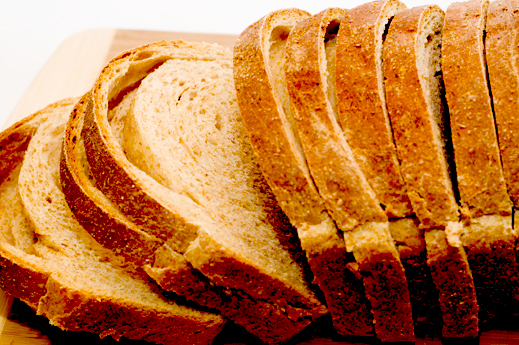 You can see my wheat loaf developed a big air pocket between the bread and the crust, any ideas on why that happened? Otherwise it was perfect, delicious and tender. The dough was very different from all yeast doughs I have worked with before. So I wasn't sure at what point to stop adding liquid. On the other hand, it looks like maybe I didn't push enough air out when I was rolling up the dough to put it in the loaf pan. I am definitely getter better each time: faster and more confident. Start to finish, each loaf took about four hours of babysitting. I used my stand mixer to do the kneading and mixing so the only work involved was putting the ingredients in the bowl, otherwise it is all wait time. I think I could keep this up for a while, especially since I received such an enthusiastic response from everyone.
I used this white bread recipe from Annie's Eats and this wheat bread recipe from smitten kitchen. I would like to find a recipe of each that makes two loaves because I know if I don't have it easily accessible, I will fall off the wagon. But both of these recipes are easy and taste great so I recommend them for any other beginners.

Posted in Sides, Uncategorized