December 21st, 2008 by katie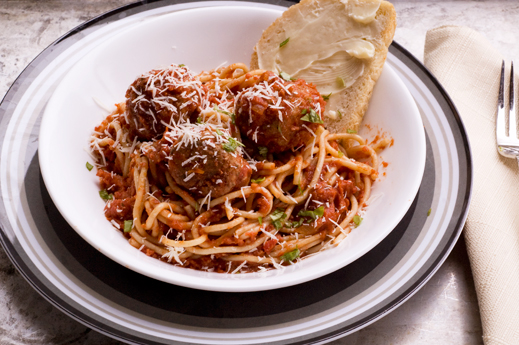 I know I haven't been updating my weekly dinners page but this time of year dinners are pretty spontaneous, despite my best intentions. Nevertheless, we are having dinner. Last night, I raided the pantry and freezer for ground beef, italian sausage, and some whole wheat spaghetti. I figured a quick spaghetti and meatballs would really hit the spot before settling in to watch the Christmas specials on TV. I used my meatloaf recipe as a guide for the meatballs because I nearly always have those ingredients on hand and made a simple tomato sauce to go along with them.
Spaghetti and Meatballs
serves 8, prep 10 min, cook time 1 hour
2 tbsp olive oil
1 small onion, diced
3 cloves garlic, minced, as desired
2 (28 oz) cans crushed tomatoes
1/4 cup carrot puree
1/2 cup red wine
1/4 cup grated parmesan cheese
1 lb ground chuck
1 lb italian sausage or 4 links
2 eggs
3 cloves garlic, finely minced or made into a paste
1/4 cup bread crumbs
1/4 cup dried parsley
1/4 cup grated parmesan cheese
salt and pepper
spaghetti noodles
crusty bread
Heat oil over medium in a large pot. Saute onion until clear then add garlic and cook until soft.
Add tomatoes, carrot puree, and season with some salt and pepper. Simmer while making the meatballs
In a large bowl, use a fork to thoroughly mash and combine beef, sausage, eggs, garlic, bread crumbs, parsley, and parmesan cheese.
Form walnut sized meatballs and sear in a large, hot skillet. Once all sides are browned, deglaze with a splash of red wine.
Add meatballs, gently, to sauce to finish cooking. Add red wine and parmesan cheese to sauce.
Bring a large pot of water to a boil. Add a handful of salt and spaghetti noodles.
Once noodles are al dente, 8-12 min depending on your noodles, reserve 1 cup of water from the pot and drain.
Add water to sauce as needed to thin. Taste and season with salt as needed. Serve!
I am assuming most of you won't be hanging around here much next week and neither will I.  Considering I have purchased exactly one Christmas gift for my three children, I have some shopping to do!  I will be back after the holidays, probably with even more Pantry Challenge posts, since it seems we have, eh, overextended ourselves this year.  I will also be ringing in the New Year with some diet tips since I have already overextended my waistband as well.

Posted in Budget, Main Dish, Pantry Challenge