December 5th, 2008 by katie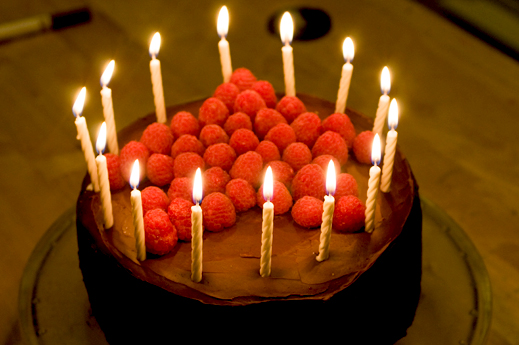 I love making birthday cakes. I know I have quoted her before but this is singularly my favorite quote about birthday cakes:
"I think the very least someone deserves for hitting such a fine age with style is a friend, elbows-deep in flour, frosting and devotion."
My friend Kelly loves raspberries. When her birthday rolled around and I asked her what type of cake she'd like her response: chocolate. With some chocolate and maybe a little chocolate on the side. Oh and maybe some raspberries. With that combination in mind I knew I would be making this cake and following Deb's suggestion for a raspberry filling.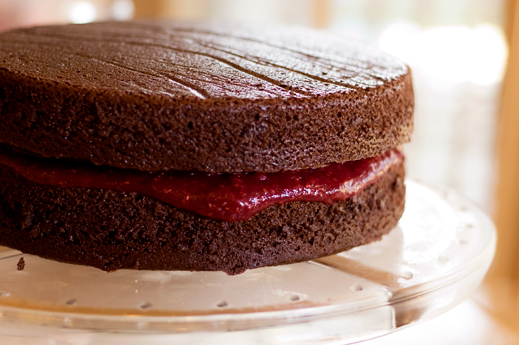 The recipe is actually for a three layer cake, but I knew that would be far too much cake for four of us so I only made two layers. It is a deliciously chocolately and delicately crumbed cake. The frosting is a simple melted dark chocolate ganache and the raspberry filling is a welcome respite from all of that chocolate. This was not the easiest cake I've ever made but no cake is actually hard per se. My six year old-the one who doesn't listen-and I made it together after school so it is certainly not a difficult cake. I had trouble with the frosting because I tried to spread it while it was quite firm-tearing the cake quite a bit in the process. Microwaving it for a few seconds, however, had a profound effect on it's spreadablity. I also forgot to buy two bags of raspberries, but there was plenty of filling from the one bag.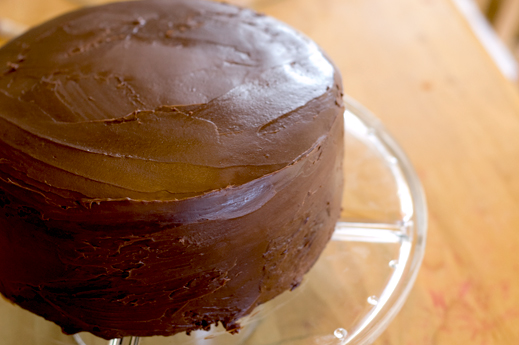 All in all, the cake-shared by friends after a wonderful evening-was delicious. While I don't think I have found THE chocolate cake recipe yet, if you are looking for a huge, very chocolately cake recipe this is a good one to try.
Double Chocolate Layer Cake
prep 20 min, cook 45 min, adapted from
Gourmet, March 1999

3 oz semisweet chocolate
1 1/2 cup hot brewed coffee
3 cups of sugar
2 1/2 cups flour
1 1/2 cups unsweetened cocoa powder
2 tsp baking soda
3/4 tsp baking powder
1 1/4 tsp salt
3 eggs
3/4 cup oil
1 1/2 cups buttermilk
3/4 tsp vanilla
Preheat oven to 300°F. Grease three cake pans and line bottoms with rounds of wax paper and then grease paper.
Finely chop chocolate and in a bowl combine with hot coffee. Let mixture stand, stirring occasionally, until chocolate is melted and mixture is smooth.
Combine sugar, flour, cocoa powder, baking soda, baking powder, and salt in a large bowl.
In another large bowl with an electric mixer beat eggs. Slowly add oil, buttermilk, vanilla, and melted chocolate mixture to eggs, beating until combined well.
Add sugar mixture and beat on medium speed until just combined well.
Divide batter between pans and bake in middle of oven until a tester inserted in center comes out clean. This only took 45 min in my oven but the recipe says 1 hour so check it frequently at about 40 minutes.
Cool layers completely in pans on racks.
Chocolate Ganache Frosting (For Two Layer Cake)
prep 5 min, chill 2 hours
1/2 pound semisweet chocolate
1/2 cup heavy cream
1 tbsp sugar
1 tbsp light corn syrup
2 tbsp butter, chopped
Finely chop chocolate.
In a saucepan bring cream, sugar, and corn syrup to a boil over moderately low heat, whisking until sugar is dissolved.
Remove pan from heat and add chocolate, whisking until chocolate is melted. Add butter to frosting, whisking until smooth.
Transfer frosting to a bowl and cool, stirring occasionally, until spreadable.
If frosting hardens, microwave for a few seconds and stir then again if necessary until easily spreadable.
Raspberry Filling
prep 5 min, adapted from
smitten kitchen
1 10 oz bag frozen raspberries
1/4 cup sugar
1 tbsp corn starch
Thaw raspberries and puree in a blender.
Strain the puree through a fine screen to remove the seeds.
Heat puree, sugar, and cornstarch to a boil, stirring constantly. Boil until thick.
Cool completely before spreading over cake layer.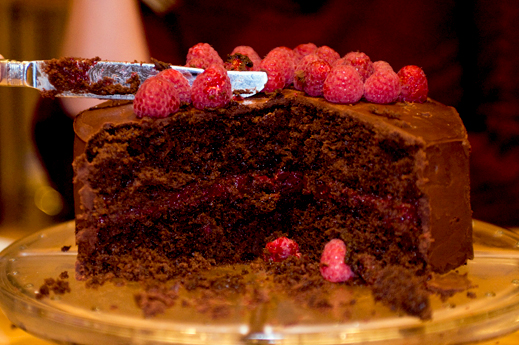 Posted in Desserts