September 3rd, 2008 by katie
I always imagined cooking delicious, tender ribs to be some restaurant secret. I figured attempting to cook ribs at home would be complicated, time consuming and would result in a tough, possibly inedible waste of money. Lucky for us, I took the chance one year and I've been making these delicious ribs ever since. They are one of my favorite meals to make for company or a crowd because they are so easy and impressive. Just keep in mind, regardless of who does all the work-cleaning, preparing, rubbing, wrapping, and cooking the ribs-the person who actually grills the meat for 10 minutes in the final step will be the one who gets the credit for making the ribs.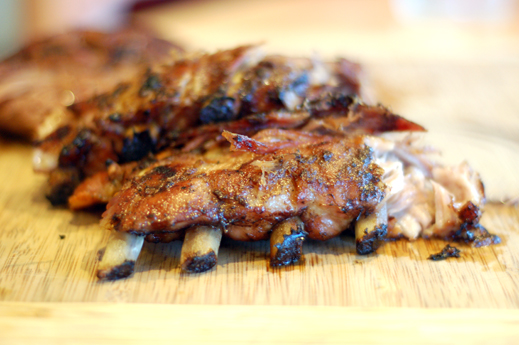 The key to making restaurant tender ribs at home is the cooking technique-which is quite simple. You can use any spice rub combination you like or simply salt and pepper, which is how I make them when the kids are eating. My grown-up rub consists primarily of kosher salt and fresh cracked pepper, garlic powder, brown sugar, Worcestershire sauce, and lime juice then equal amounts of cumin, cayenne, paprika and mustard.  mrChaos's rub is here. I simply add a teaspoon of this or that until it smells right. The cooking method then is as follows:
Baby Back Ribs
serves 4, prep 10 min, cook 3 1/2 hours
Clean ribs and remove silver skin fat from the back. It should pull right off if you can get a good grip on it. Don't worry about it too much, they'll be delicious either way.
Place each rack atop two sheets of heavy duty foil. Rub ribs with spice mixture all over.
Fold and wrap foil around each rack. At this point you can place them in the fridge to marinate or put them directly in the oven.
When you are ready to cook preheat oven to 300°F and place rib packs on a rimmed baking sheet. You want to catch any juices if your packets leak or your oven will be a mess.
Cook ribs for 3 hours.  Remove a rack and unwrap a small section to check for tenderness. You should be able to twist the bones in the meat with little resistance.  If not, re-wrap and put them back in the oven checking every 1/2 hour.
Heat the grill and dilute barbecue sauce with a little water until it is thin and brush-able.
Unwrap cooked ribs and transfer them carefully to the grill and brush with barbecue sauce.
Grill over a high flame for a few minutes, or until charred.
Alternately, you can crisp them up under the broiler in the oven if you don't have a grill. Just give them a nice crust.
Follow these same steps regardless of how many racks of ribs you are cooking.  I have cooked as many as six racks at a time piled up in the oven and it works just fine, although you may need to allow for a slightly longer cooking time.