August 22nd, 2008 by katie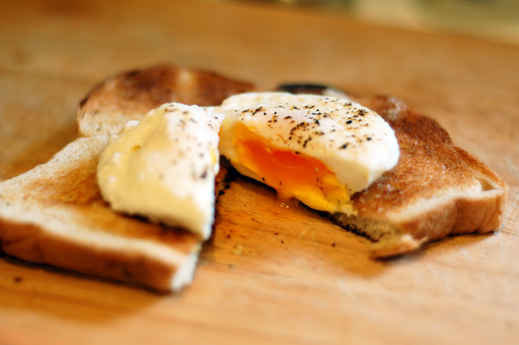 So you know the drill: breakfast is the most important meal of the day. How ironic then that it also appears to be the meal people have the hardest time finding time for. Between trying to get a few more minutes of shut-eye and rushing out the door to beat traffic, breakfast often falls through the cracks. A bowl of cold cereal just doesn't satisfy and is much too time consuming. Frankly, anything requiring dishes and cooking and sitting down and using a fork or spoon is out of the question.
So what satisfies? Uses few dishes? Is portable? Well, lots of things actually. Today, it's a poached egg on toast. Poached eggs you say? That requires a pot and heating up the stove-that takes time.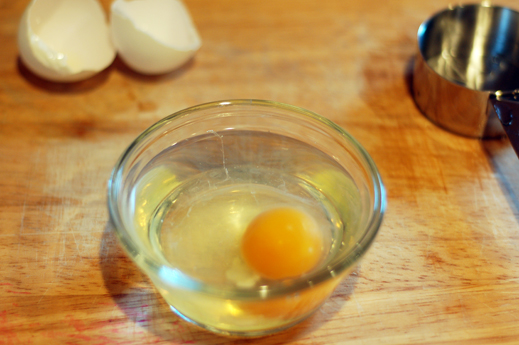 It doesn't have to. Actually it can be ready in about 2 minutes, dirtying only one small dish. They aren't pretty and you might not want to serve them at brunch with the Queen, but for breakfast in under 5 minutes-eaten with one hand on the way out the door-they are filling, satisfying and will get your day off to a great start.
Microwave Poached Eggs
serves 1, prep 1 min, cook 1 min
1 large egg
a few tbsps of water
splash of vinegar
Put a few tablespoons of water into a small custard cup or coffee mug. Add a splash of vinegar.
Break an egg into the water and use a tooth pick to pierce the yolk, this just keeps it from exploding-it won't leak.
Cover loosely with a square of plastic wrap. Put your toast in the toaster.
Microwave for 45 seconds for runny, 50 seconds for set but deep yellow, 1 min for well done.
While the egg is cooking, butter your toast. If the microwave beeps before your toast is ready you can leave the egg in the hot water for some additional time while you finish your toast prep, it will continue cooking slightly.
Peel off the plastic and scoop the egg out of the water, and place it on your toast. Salt and pepper it then mash it up or just wrap it in a napkin and go.