August 20th, 2008 by katie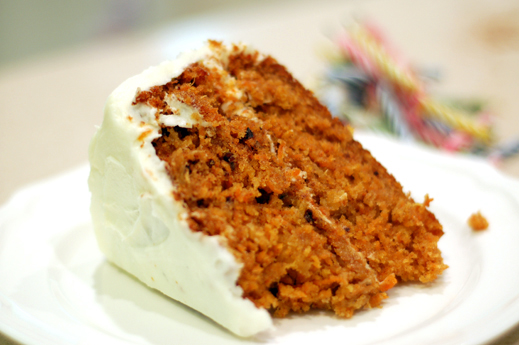 Deb, from the illustrious smitten kitchen, said about birthday cakes,
"I think the very least someone deserves for hitting such a fine age with style is a friend, elbows-deep in flour, frosting and devotion."
Which pretty much sums up exactly how I feel about birthday cakes. While Deb's cakes make me feel like the poorest of amateurs I agree completely that any lovingly made cake just tastes better. And nothing says, "I love you," like 2 cups of finely grated carrots. Talk about blood, sweat and tears…
The joke about my mom's birthday cake is: there's so many fruits and vegetables included you can just skip dinner and go straight to the cake. It is a moist, spicy cake with a world of textures and surprises in every bite. It's almost worth the bloody knuckles and days hours minutes of grating carrots.
Gramma's Carrot Cake
makes 1 layer cake or sheet cake, prep 20 min (grating carrots!), cook 50 min
2 1/2 cup flour
2 cup sugar
2 tsp baking soda
2 tsp cinnamon
1 tsp salt
3 eggs
1 1/2 cup oil
1 20 oz can crushed pineapple, drained
2 cup grated carrots, approx 6 large or 2lbs
1/4 cup golden raisins, chopped
1/4 cup finely chopped, toasted pecans
Preheat oven to 350°. Prepare cake pan-I use 2 rounds although you can bake this as a 9 x 13-with grease and flour (Baker's Joy).
Measure flour into a medium bowl by spooning flour loosely into a measuring cup then leveling off. Add additional dry ingredients: sugar, baking soda, cinnamon and salt. Stir to combine.
In a separate bowl combine eggs, oil, crushed pineapple and carrots, stir to combine.
Slowly add flour mixture to wet mixture stirring as necessary to moisten and combine ingredients, reserving the last 1/4 cup of flour mixture.
Toss chopped raisins and pecans with remaining flour mixture until coated, then stir into cake batter.
Pour batter evenly into prepared cake pans and bake for approximately 40-50 min.
Allow cakes to cool on wire racks until room temperature.
Cream Cheese Frosting
makes approx 2 cups, prep 5 min
8 oz block cream cheese
8 tbsp unsalted butter
3-4 cups powdered sugar
Cream butter and cream cheese in a bowl with beaters on high until well combined and fluffy.
Slow beaters and stir in powdered sugar. If frosting gets too runny put it in the fridge until it firms up.
How to frost a layer cake:
Place one layer on a cake stand or plate and spoon some frosting on top.
Smooth the frosting from the center out to the edges with a spatula.
Place the second layer, upside down, on top.
Spoon some more frosting over the top and start spreading it. This layer will catch all of the loose crumbs so don't worry about that. Use enough frosting to just barely cover the cake, then refrigerate until the frosting firms up.
Last, dump all the frosting on top and spread from the center out. As frosting piles up at the edges, smooth it down the sides. Done, decorate!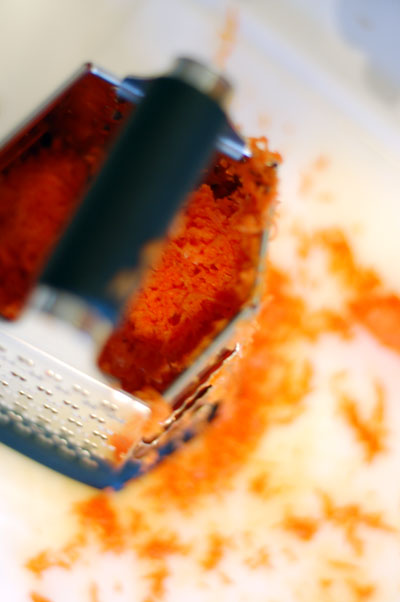 Posted in Desserts